The Agni-V missile lifted off from Wheeler Island off India's East coast
2:31pm UK, Thursday April 19, 2012
India has set light to the blue touch paper in its bid to secure a seat on the United Nations Security Council, and a place at the top table in international affairs, with the launch of its Agni-V ballistic missile.
The back-slapping and congratulations within India after the
successful launch of the missile
, which has a range of around 3,100 miles (5,000km) but could be adapted to reach far further, was muted in neighbouring China where Beijing is now within range of India nuclear warheads.
But it is in Pakistan, so far silent on the launch, where Indian success will have the most immediate impact.
The focus of almost all of Islamabad's international efforts, and the prism through which Pakistan sees the world, is its long-running conflict with India over Kashmir.
Westerners often struggle to comprehend the extent to which almost every fibre of Pakistan's military and diplomatic body is dedicated to defending the Islamic nation against what it sees as its belligerent 'Hindu-dominated' neighbour.
The India-Pakistan border as seen from a Nasa satellite
The launch of the Agni V, which will be developed to carry multiple nuclear warheads and for now is capable of delivering a 1.5 ton nuclear weapon, puts Pakistan firmly behind India in the regional nuclear arms race.
Both counties have the capacity to obliterate one another already. And Pakistan has developed battlefield nuclear weapons which it keeps on the move around the country to protect its nuclear arsenal from American and Indian spies and satellites.
The Agni-V gives Indian military planners greater flexibility in how they deploy its shorter ranged arsenal of Agni-III missiles. These would have had to be stationed perilously close to the Chinese border to reach significant Chinese targets.
But now that its big sister is on the scene the Agni-III can be focused more on Pakistani targets.
Meanwhile the Agni-V can be placed deep inside Indian territory - making it a tougher target for Pakistani attacks or retaliation.
With the balance of Mutually Assured Destruction shifting in India's favour regionally, Pakistan can be expected to increase its covert operations in Afghanistan.
There, its Inter-Services Intelligence agency has been supporting groups such as the Taliban to ensure that it remains so unstable that it cannot form an alliance with India and thereby threaten Pakistan's left flank.
India's western allies have seen no problem with the latest Indian breakthrough because India is seen as a bulwark against China in Asia.
Indian soldiers on patrol in Kashmir
As the world's biggest democracy, an India capable of using nuclear weapons across continents poses nothing like the threat that 'rogue' states such as Iran and North Korea are perceived to do.
India fought a disastrous border war with China in 1962 over its still unclear frontiers with Beijing in the Himalayas. This continues to fester.
The new missile will go a small way to balance Indian power with its neighbour, which has dozens of similar projectiles.
State-owned Chinese television said the missile 'does not pose a threat'. But it acknowledged that India had joined the club which owns intercontinental ballistic missiles (ICBM).
Until now this included the permanent five members of the Security Council, the UK, France, Russia, China, the US plus Israel, which refuses to acknowledge any nuclear arsenal.
So India's case for a permanent seat on the Council as a major nuclear democracy from the developing world is further enhanced. Another cause for paranoia in Pakistan.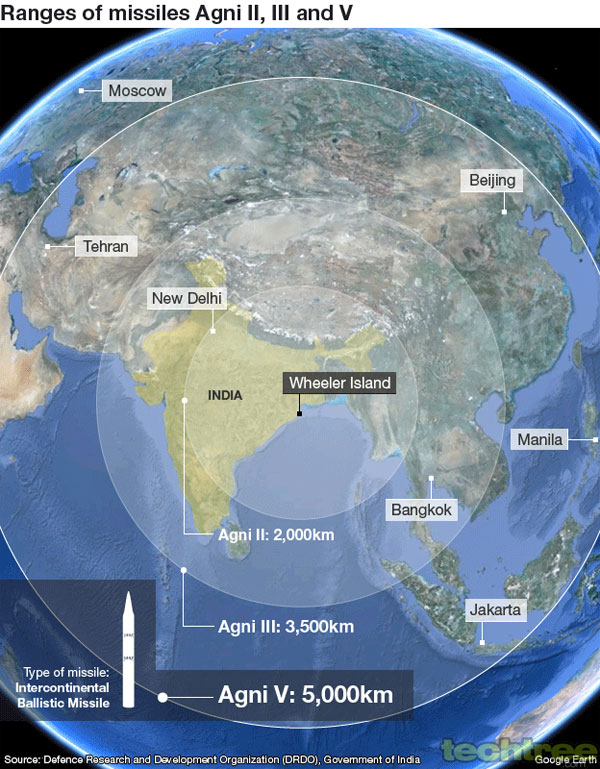 source:
Get our updates FREE