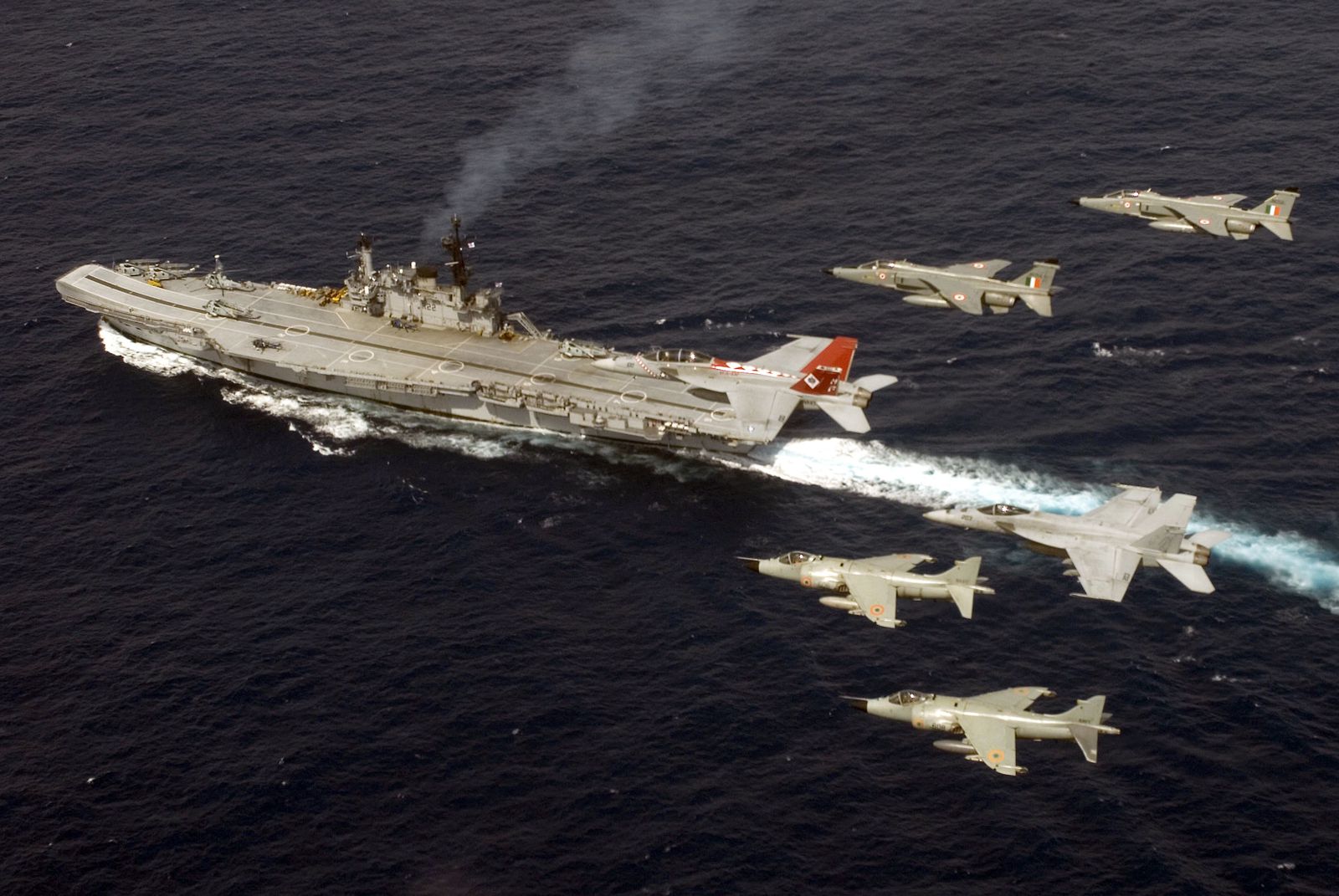 Indian&US navy aircrafts flying over INS virat of indian navy
Recognising India's growing maritime power, the United States wants to maintain a ''significant'' relationship with India to help provide stable and secure international commerce through the sea lanes, according to a top US naval commander.
Although India is only providing staff personnel for the ongoing Rim of the Pacific Exercise (RIMPAC) 2012 exercise, India's participation is of significance for all 21 other participants, Vice Admiral Gerald Beaman, commander of the US Third Fleet and RIMPAC, said during a media teleconference Tuesday.
India and 21 other nations are participating in what is described as the world's largest international maritime exercise being held June 27 to August 7, in and around the Hawaiian Islands.with 42 ships, six submarines, more than 200 aircraft and 25,000 personnel.
"The partnerships we are building during the RIM exercise is exactly why we want to maintain our relationship with India to help provide stable and secure international commerce through the sea lanes," he said.
"So I believe our relationship with India will remain significant through the coming years," Beaman said noting that India and the US have been doing a large number of bilateral military exercises in recent years.
"But in the case of RIMPAC, with 22 different nations participating, whether it's strictly through staff personnel or personnel and assets such as vessels, it expands that training value to incorporate employment of people and things in a coalition environment."
However, Beaman was quick to point out that the objective was not to build a coalition of the East Asia Pacific rim nation on the lines of NATO, minus China, which was not invited to participate for reasons that the US commander was at a loss to explain.
"No. I want to make sure that everyone understands the RIMPAC exercise was never designed to form a formal coalition," he said.
Noting that the RIMPAC exercise has grown in size from three participating nations in 1971 to 22 this year, Beaman said: "It's just whoever - likeminded nations trying to get training value out of working in a coalition."
India-Us Naval ships during MALABAR 2012
"The significance for, I think, all 21 other nations for India's participation is again to build the relationships," he said pointing out that the theme for RIMPAC 2012 is "Capable, Adaptive Partners."
"We are trying to develop those partnerships," he said, so that "we know what we can bring to the table in the event of a crisis or a natural disaster, and we can rely on each other to assist.
The earthquake and tsunami that hit Japan over a year ago was one clear example of the benefits of having participated in exercises, Beaman said.
Get our updates FREE