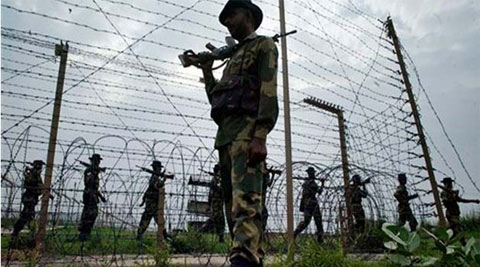 Army troops discover cross-border tunnel dug nearly 50 meters into the Indian territory from Pakistan side. (Source: IE archive)
The Indian army on Friday night discovered a cross-border tunnel dug close to 50 meters into the Indian territory from Pakistan side in Pallanwala sector near Akhnoor in Jammu & Kashmir. Pointing out that the tunnel was big enough for terrorists to sneak into the Indian territory from Pakistan side, sources said that the area was immediately sealed by the troops.
While a similar cross-border tunnel was found by BSF near the international border in Hiranagar area a few years ago, it was the first time that such a tunnel was found in the state.
Meanwhile, in a major ceasefire violation, Pakistani Rangers have targeted 22 border outposts along the international border in Arnia and R S Pura sectors.
On Saturday morning, two members of a family were killed and four others including a BSF jawan injured as Pakistani troops continued unprovoked firing, using for the first time long range mortars, medium and heavy machine guns to target areas on the Indian side along the international border.
The two civilians fell victim to Pakistani firing after a mortar shell landed on their house in R S Pura sector. The firing from across the border had restarted on Friday after three days of ceasefire.
Sources said that the latest round of unprovoked firing from Pakistan came around 12.50 am in Arnia sector. Within a short span, the firing spread to R S Pura sector as well.
The BSF also retaliated and the exchange of fire between the two sides was ongoing in few areas. A BSF jawan and five civilians including a woman sustained splinter injuries.
The mounting tension along the border has forced civilians to migrate from nearly half a dozen villages in R S Pura sector, with nearly 3,000 people taking shelter in a government high school at Rangpur and Government Industrial Training Institute on Friday night. Both these buildings were among various places already identified by the district administration as safe places to accommodate people migrating from border areas.
As there has been no change in the situation for nearly a fortnight, people have started moving to bunkers during night. The police and para military forces, according to sources, have already advised people to switch off their lights after sun set so as to avoid firing from Pakistan army.
Source:http://indianexpress.com/article/india/india-others/indian-army-uncover-cross-border-tunnel-pakistani-rangers-kill-two-civilians-injure-four/
Get our updates FREE